Transformation in…
Phase 2 Progress
Transformer v1.9 100% FCs
Phase 1 Results
Transformer v1.0 100% FCs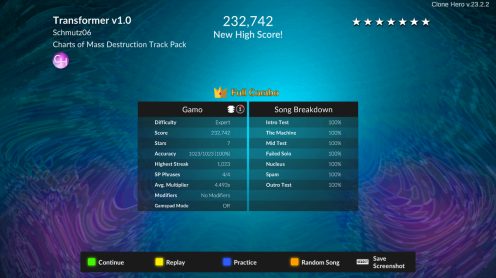 Quadpocalypse 100% FC | 0/5
Transformer Challenge! A new Transformer song will be released every 100 days and will include upgrades earned by the community.
What is the end goal of the Transformer Challenge?
To 100% FC Transformer v5.0
How? keep reading…
Every 1x Documented 100% FC of Transformer:
1) Version 1.0 will become 1.1, 1.2, 1.3, up to version 1.9.
2) Adds 5 seconds and 50 notes to the next version of Transformer.
Song upgrades! 5x Documented 100% FCs of these songs will cause a MAJOR upgrade of the Transformer chart.
v1.0 will become 2.0, 3.0, 4.0, 5.0.
Trillbot = Trills upgrade.
Chordzilla = Chords upgrade.
Chimnobyl = Chimneys upgrade.
Quadpocalypse = Quads upgrade.
Find the stones | there are hidden stones in each video preview of the Charts of Mass Destruction Track Pack. The song specific upgrades will only work if someone has timestamped the respective stones (shown above). Good luck hunting these. They are hidden in plain sight and you'll find them if you look hard enough…
Expert Chart only | the HARD charts are not counted toward this community challenge.
Unlimited attempts | anyone can contribute toward advancing the challenge. It doesn't matter whether they have already advanced it previously. The only exception is one person cannot FC the same chart multiple times and earn extra upgrades.
You set the difficulty| if multiple upgrades are earned in a single phase the challenge will skip forward to whatever version is achieved. If no upgrades are earned, the song won't change. Once version 5 is unlocked, the song upgrades will end.